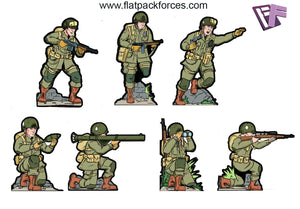 This is a combination set for the command of a U.S. Para Platoon.
A junior officer, a senior N.C.O. and a trooper make up the command section. These are supported by a sniper and observer team together with a bazooka and loader team. All come with push together coloured bases and are 28mm sized.
Additionally there is either a 101st or 82nd Airborne Divisional Badge, a small rustic stone wall and a 6 inch measuring stick with the relevant divisional badge. 
Soldier figures designed by Steve Beckett for Flatpack Forces.