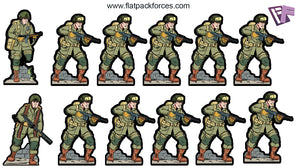 With an S.M.G. armed N.C.O., a gunner with an L.M.G. and ten troopers armed with carbines this squad is ready to go into battle.

They are presented in the M42 jump kit which is iconic for the Normandy campaign being replaced after the campaign.
Soldier figures designed by Steve Beckett for Flatpack Forces.
Qualifies for the platoon deal of buy three get one free unit deal.