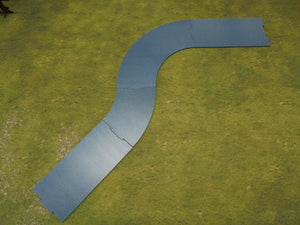 Three river bends fully compatible with the straight river sections these can fit together to create a winding river across the tabletop battlefield.
They are fully coloured and ready to use with both sides coloured allowing you to switch the way that the bend turns.
Each bend is 7 cm wide and the full 90 degree bend turns across 15 cm from left to right.
This set has one complete 90 degree bend and two 45 degree bends and are suitable for figure sizes from 20mm up to 28mm.